This is an archived article and the information in the article may be outdated. Please look at the time stamp on the story to see when it was last updated.
Which projector is better, Epson or Nebula?
While watching movies or TV shows is usually a solo activity, sometimes you want to share the excitement, shock and heartache with friends and family. Huddling around a laptop or small TV simply won't do, and the best option is to hang up a large fabric sheet or projection screen, grab some extra chairs and watch the riveting action through a projector.
But just as with TVs and big-screen displays, there are options, with Epson and Nebula both popular choices.
Epson projectors
Epson is a Japanese company with a long history of making electronics. It's one of the world's largest manufacturers of computer printers, probably the gadgets most people associate with it.
Epson projector pros
Epson's projectors are made to the same high standard as its other devices, with robust build quality and excellent picture sharpness. Another selling point is the affordability of many of its projectors. That's because it often uses LCD panels instead of the more expensive Digital Light Processing used by other manufacturers.
Epson projector cons
While Epson's projectors look great and work as intended, keeping costs down comes at the expense of internal technology. At heart, most Epson projectors are relatively basic, with only a few providing features such as Bluetooth, wireless connections or higher resolutions.
Best Epson projectors
Best Epson projector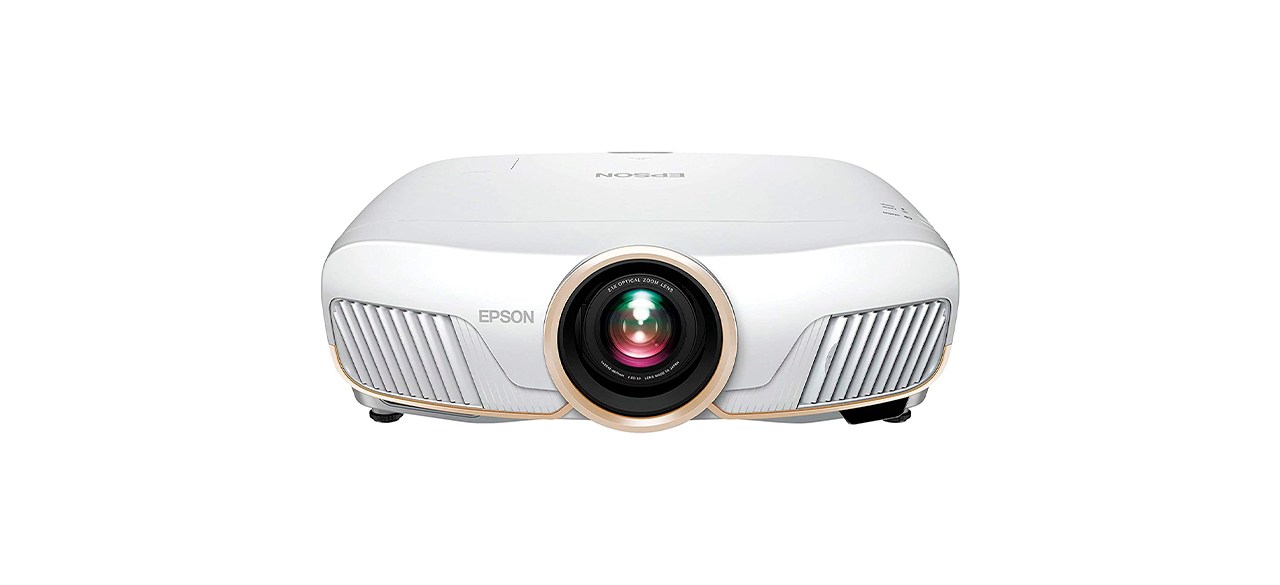 Epson Home Cinema 5050UB 4K Pro-UHD 3-Chip Projector with HDR
What you need to know: This projector is perfect if you want to view your favorite content at the highest resolution possible.
What you'll love: The advanced Epson 3LCD chip technology displays 100% of the RGB color signal for every frame, ensuring that colors are vivid and clear. It features a 10-bit high dynamic range processor, a brightness of 2,600 lumens and several input connections.
What you should consider: It is possible to mount this projector on a ceiling, but you must invert the picture to the correct orientation.
Where to buy: Sold by Amazon
Best Epson projector for the money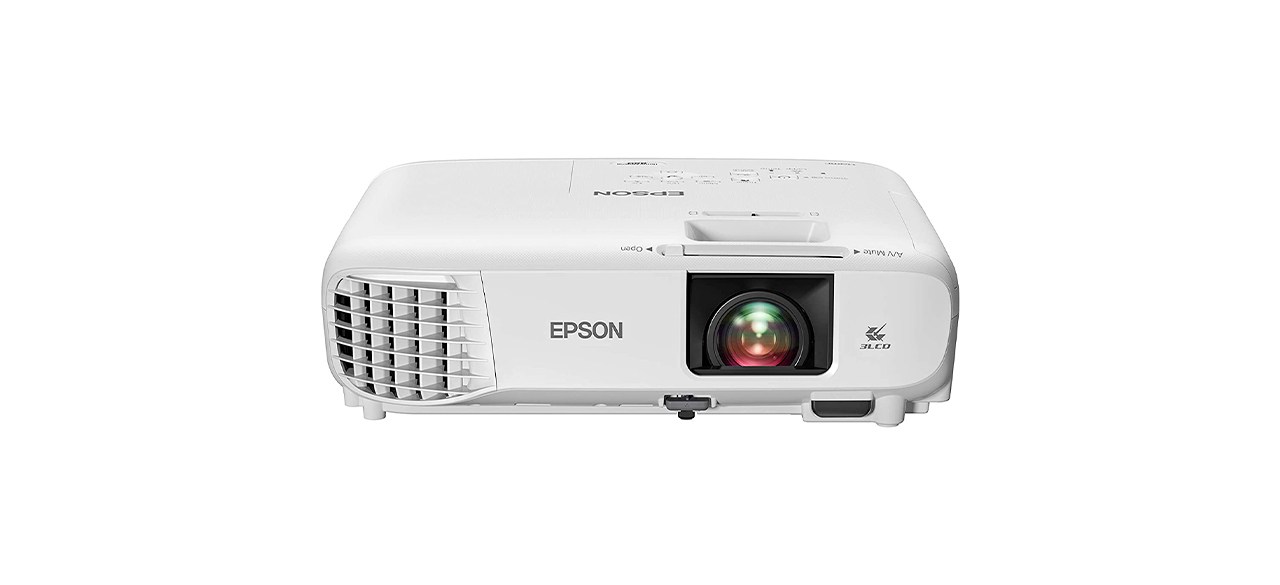 Epson Home Cinema 880 3-Chip 3LCD 1080p Projector
What you need to know: This is a great option if you want to watch films in style without breaking the bank.
What you'll love: With a brightness of 3,300 lumens, any content is displayed in perfect 1080p resolution. It uses Epson's 3LCD technology to display all of the RGB color signal, has several input methods compatible with streaming devices and game consoles, and has a built-in picture skew sensor.
What you should consider: Its audio isn't the best, and the only solution is to use the 3.5-millimeter output.
Where to buy: Sold by Amazon
Worth checking out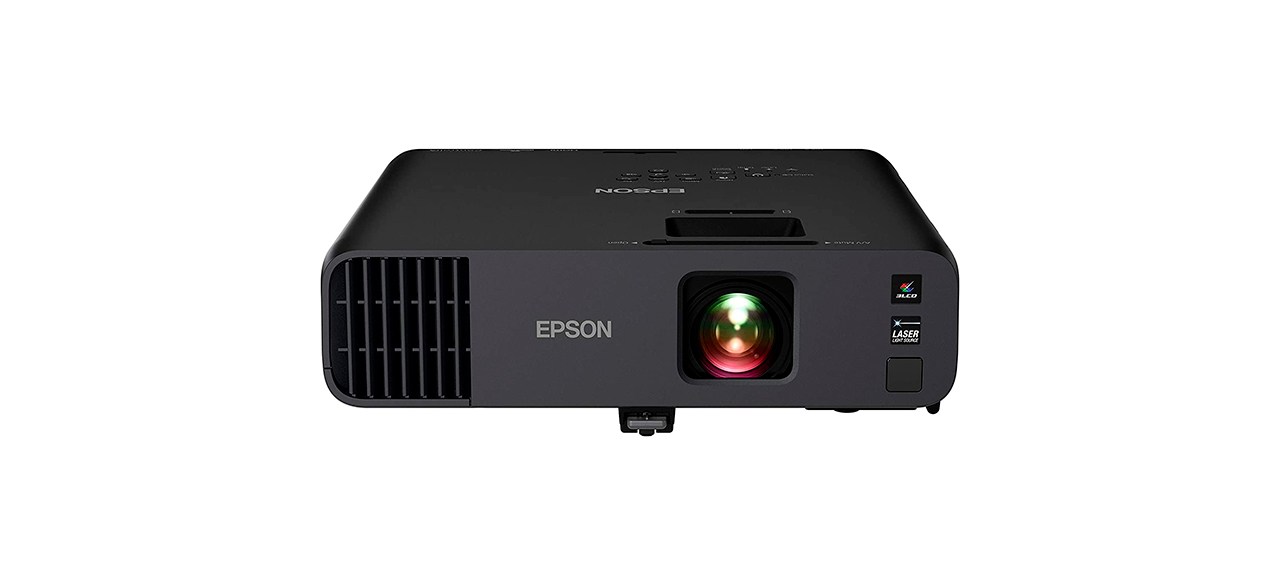 Epson Pro EX10000 3-Chip 3LCD 1080p Wireless Laser Projector
What you need to know: This stylish laser projector is a great option if you don't want to struggle with connection cables or terrible sound.
What you'll love: This projector has a powerful brightness of 4,500 lumens, making it perfect for watching outdoors or in low light. It has a maximum resolution of 1080p, wireless connectivity, several HDMI ports and a built-in 16-watt speaker.
What you should consider: It's heavier than an average projector, tipping the scale at almost 10 pounds. If you want to mount it on a ceiling, you must ensure that the ceiling is sturdy.
Where to buy: Sold by Amazon
Nebula projectors
Nebula projectors are made and distributed by China-based Anker Innovations. The company is well known for its power banks, charging solutions and mobile accessories, but the Nebula division is solely responsible for projectors.
Nebula projectors fall into one of two categories: the "Go Anywhere" series and the "Around the Home" series. Each is geared toward a different market segment, with "Go Anywhere" projectors focusing on portability and convenience while "Around the Home" hones in on quality and robustness.
Nebula projector pros
A great feature of Nebula projectors is that they use the Android operating system. This lets you download your favorite streaming app directly onto the projector. Once the projector is connected to a Wi-Fi network, you stream your shows and films as usual.
Nebula projector cons
While Anker's projectors are generally excellent, a few aspects could dampen your experience. For example, the Capsule II isn't as bright as you'd expect, which is a problem if there are other light sources nearby. Another problem (not exclusive to Nebula) is the sound quality on some of its projectors. Their primary focus is to display visuals, and audio sometimes seems like an afterthought. The best bet is to attach an external speaker.
Best Nebula projectors
Best Nebula projector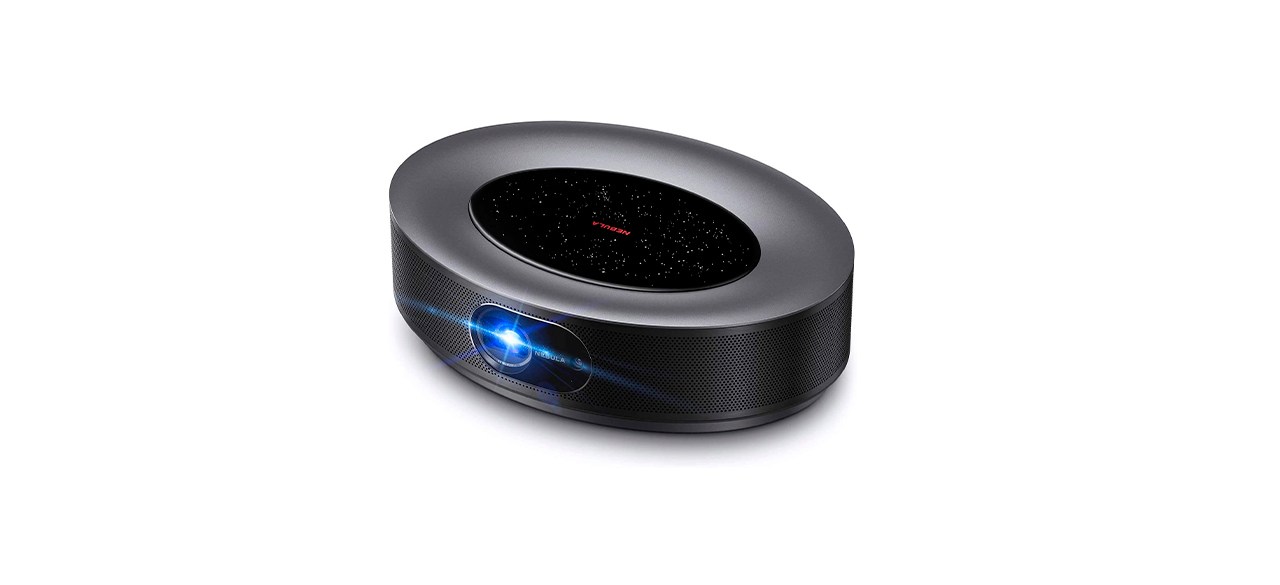 Anker Nebula Cosmos Max 4K Projector
What you need to know: This is the perfect projector if you enjoy Hollywood blockbusters and epic TV shows in all their 4K glory.
What you'll love: While the Cosmos is built for native 4K watching, it can also breathe new life into old content with its automatic upscaling. For audio, it uses Dolby Digital Plus and Sound Dimension to provide 360-degree 3D sound. It's compatible with hundreds of apps that let you stream your favorite films.
What you should consider: It doesn't have the highest brightness, only capable of reaching 1,500 lumens.
Where to buy: Sold by Amazon
Best Nebula projector for the money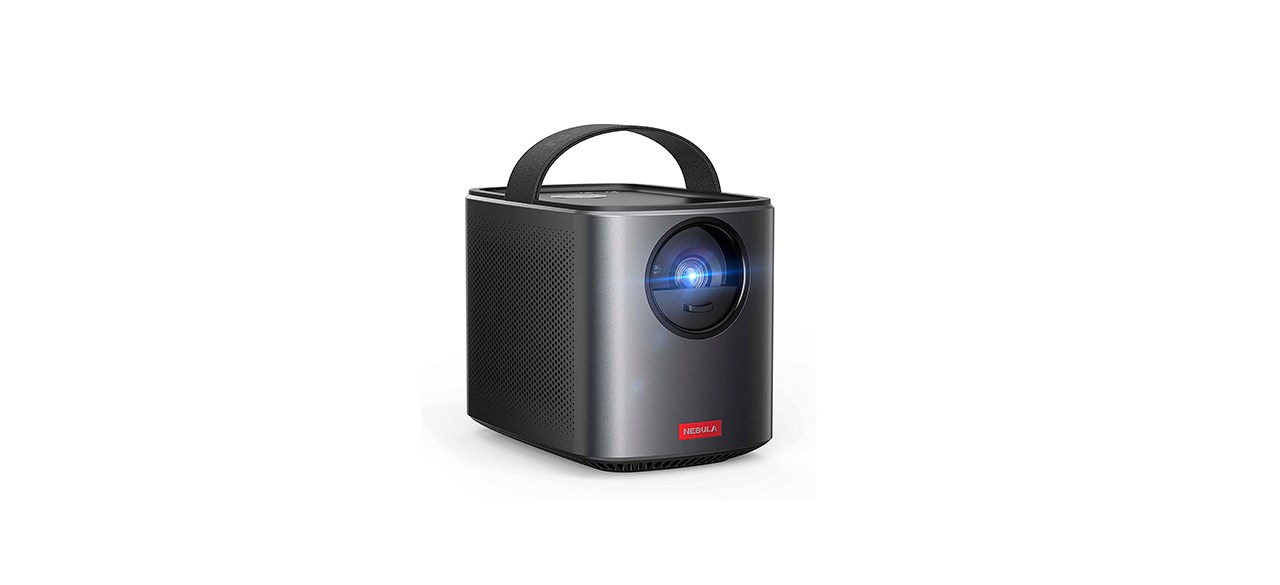 Anker Nebula Mars II Pro Portable Projector
What you need to know: If you ever need a great-quality projector for outdoor movie nights, this is an excellent choice.
What you'll love: Projecting 100-inch content at 720p resolution and 500 lumens brightness, this projector has several input methods, dual 10-watt audio drivers and runs on the Android 7.1 operating system.
What you should consider: It works on a regular electrical socket or a battery, but the battery only provides three hours of playback.
Where to buy: Sold by Amazon
Worth checking out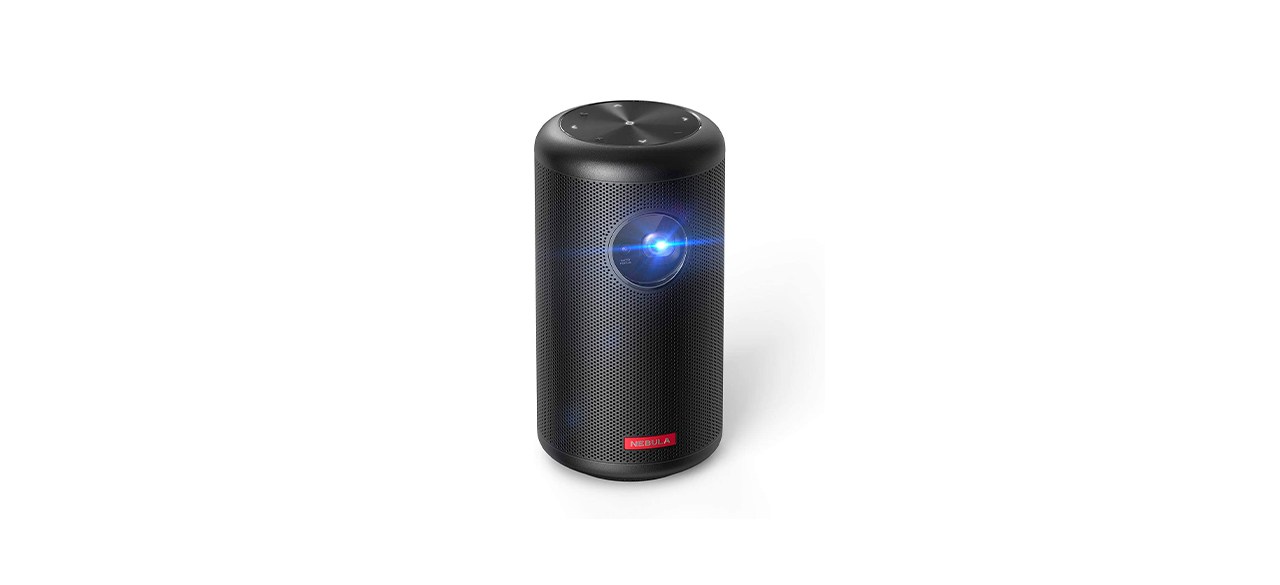 Anker Nebula Capsule II Smart Portable Projector
What you need to know: This portable projector small enough to fit in a bag and easy to use.
What you'll love: With a maximum resolution of 720p, it isn't meant for epic-film night. However, the quality is great for showing off home movies or watching older films. It incorporates Anker's Premium Scan-Speak transducer speakers for brilliant sound.
What you should consider: It's not terribly bright, having only a maximum of 200 lumens.
Where to buy: Sold by Amazon
Should you get a Nebula projector or an Epson projector?
There is no doubt that Anker's Nebula projectors simply look better. They don't have that clinical white, almost academic look that "regular" projectors have. And often, they're in different shapes.
However, it is hard to beat an excellent Epson when it comes to functionality and value. It might not have the latest Bluetooth connectivity or wireless functions, but you know it will produce a solid picture and last for a long time.
Want to shop the best products at the best prices? Check out Daily Deals from BestReviews.
Sign up here to receive the BestReviews weekly newsletter for useful advice on new products and noteworthy deals.
Charlie Fripp writes for BestReviews. BestReviews has helped millions of consumers simplify their purchasing decisions, saving them time and money.
Copyright 2023 BestReviews, a Nexstar company. All rights reserved.