This is an archived article and the information in the article may be outdated. Please look at the time stamp on the story to see when it was last updated.
IN THIS ARTICLE:
Cleaning a grill is easy, right? Let it cool down, scoop out any ashes and bits of burnt food and call it a night. Well, there is a little more to get your grates clean. A grill's grates undergo the most punishment in terms of heat, foreign substances and merciless scraping. As a result, the grates are one of the most likely parts of a grill to get damaged enough they don't work quite right anymore.
A little cracked or scraped-off porcelain coating might not noticeably affect performance. However, if you let too much carbon, chicken skin and other detritus accumulate on an iron or even steel grate, it could start to literally disintegrate over the course of the year.
There are a few key tips to remember to keep your grill and its grates in peak condition for summer cooking. Some have to do with regular maintenance, and some with deep cleaning. For that matter, regular maintenance will reduce the chance that you ever need to clean your grates deeply.
Types of grill scrapers
Don't use brushes with metal bristles
A large percentage of grill brushes are standard wire brushes with long handles. Whether they're made from steel or brass, you shouldn't use any of them. Typical brushes shed bristles, and few things are less appetizing than an inch-long sliver of sharp metal resting on top of a hamburger.
However, there are plenty of alternatives to standard wire brushes, and most work as well or better. Simple metal plates with cutouts shaped like various common grill grates are more popular than ever. Even simple pieces of wood can be highly effective after they become shaped to your grill after a few uses.
Grill brushes
A safe metal grill brush uses long, continuous, flexible wires looped around and through a twisted metal frame. They're not quite as powerful as common wire brushes because the wires aren't as rigid, but they're much safer.
Other grill brushes use nylon bristles that are far less likely to dislodge from the brush. If they do fall out, nylon bristles are also infinitely safer than metal because they'll just burn up instead of ultimately stabbing an unwitting guest in the mouth. Make sure to only use nylon-bristle brushes on completely cool grills, though, because they melt easily.
Metal scrapers
A flat metal plate does a great job cleaning a flat top grill but can't access the sides of a barbecue grill grate. Instead, many metal barbecue grill scrapers have shapes cut into them to fix this problem. Take care when selecting a metal scraper because not all grates are the same shape. Grates can be circular, oblong or triangular. If you have more than one type of grate to clean, the best metal scrapers have multiple shapes cut into them to accommodate different styles.
Wooden scrapers
Consider a wooden scraper if you're worried about damaging the grate with hard scrubbing. They're usually just a single piece of wood cut into a shovel-like paddle shape. They won't be super effective the first few uses because they start flat. After a few uses on a very hot grill, though, they start to take on the shape of the grate. Once they're worn in, wooden grill scrapers are as effective as metal ones and, in some cases, more so.
Steel vs. brass scrapers and brushes
You'll notice that some scrapers and brushes are made from brass. There are more grills in every price range with ceramic or nonstick coatings on their grates, and steel can easily scratch, chip or completely remove that sensitive layer. Brass, on the other hand, is generally safe when used with porcelain or nonstick surfaces.
Best grill scrapers and brushes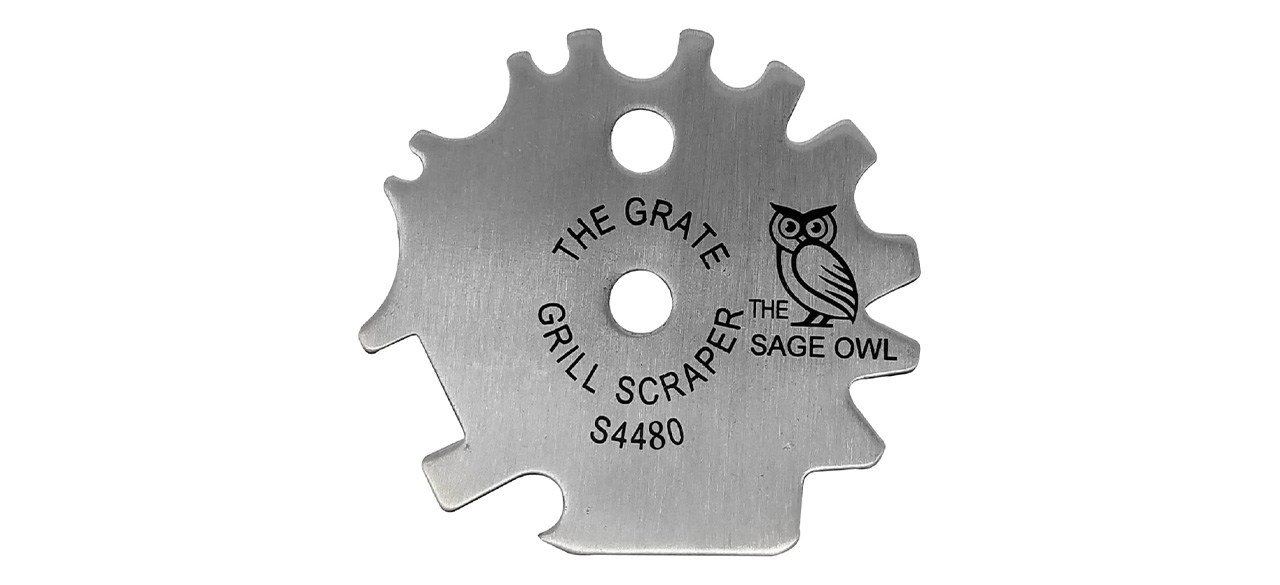 Sage Owl Grate Grill Scraper Universal
No matter what your grill grates are shaped like, this one should be able to accommodate. There's also a brass version for owners of grills with ceramic- or nonstick-coated grates. Note that you will need this matching handle to use either.
Sold by Amazon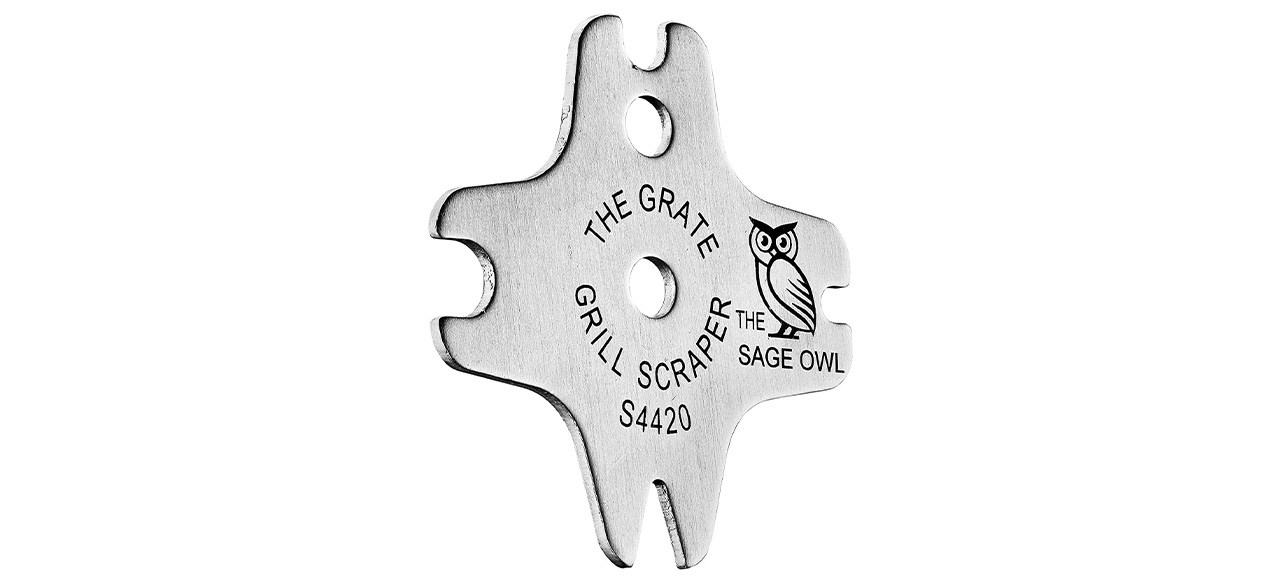 Sage Owl Grate Standard Grill Scraper
While it only accommodates four grate shapes, that actually covers a large majority of grills. Plus, the standard model's shape gives you a little more leverage. Don't forget, everyone needs a handle, and you need the brass model for ceramic or nonstick grates.
Sold by Amazon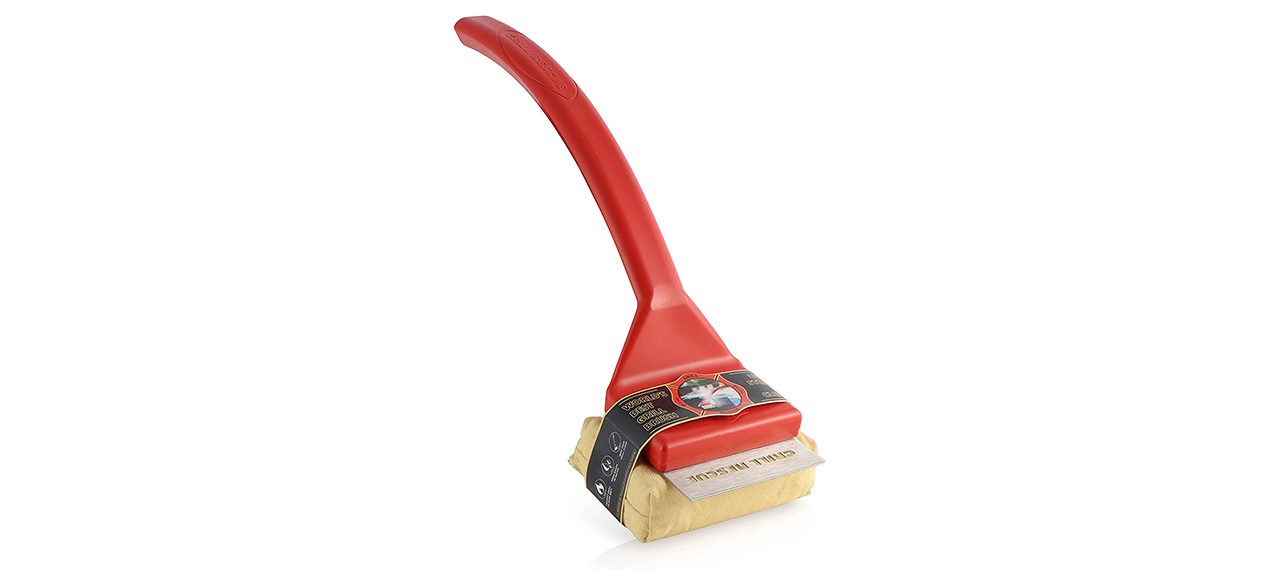 The flat side gives you the power to scrape off resilient debris, and the cleaning head is made from the same heat-resistant aramid fiber that makes up firefighter gear.
Sold by Amazon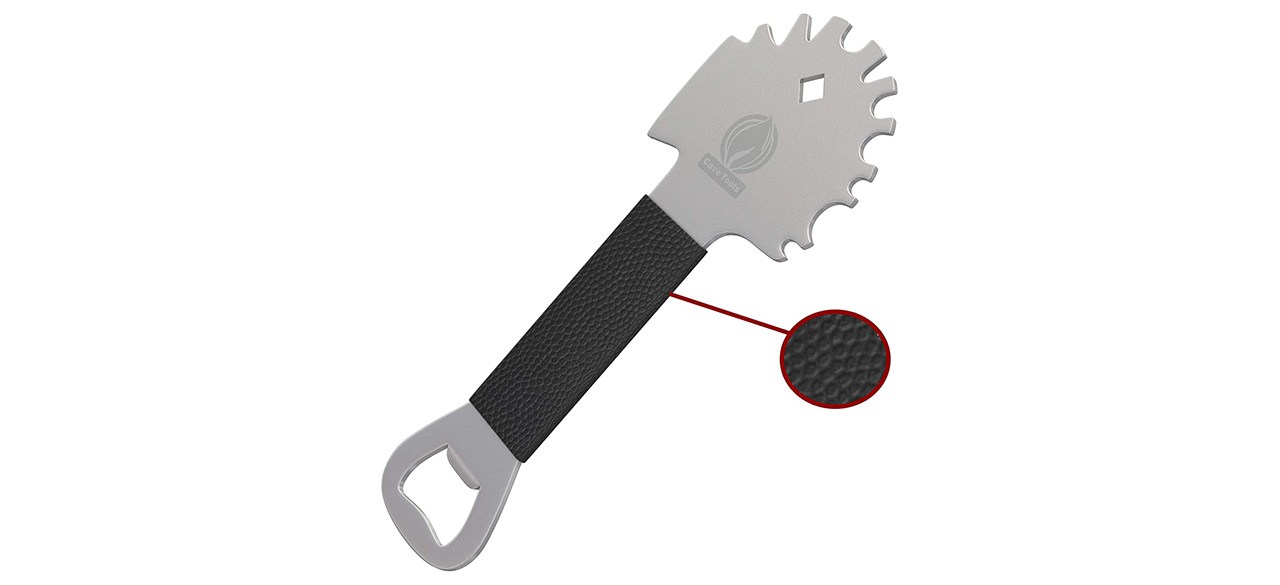 Cave Tools Bristle-Free Scraper
It can handle a variety of grate shapes, but be aware that it's too short to use immediately after you've turned the grill off since your hand will be too close to the hot grill. You'll have to let it cool down slightly first.
Sold by Amazon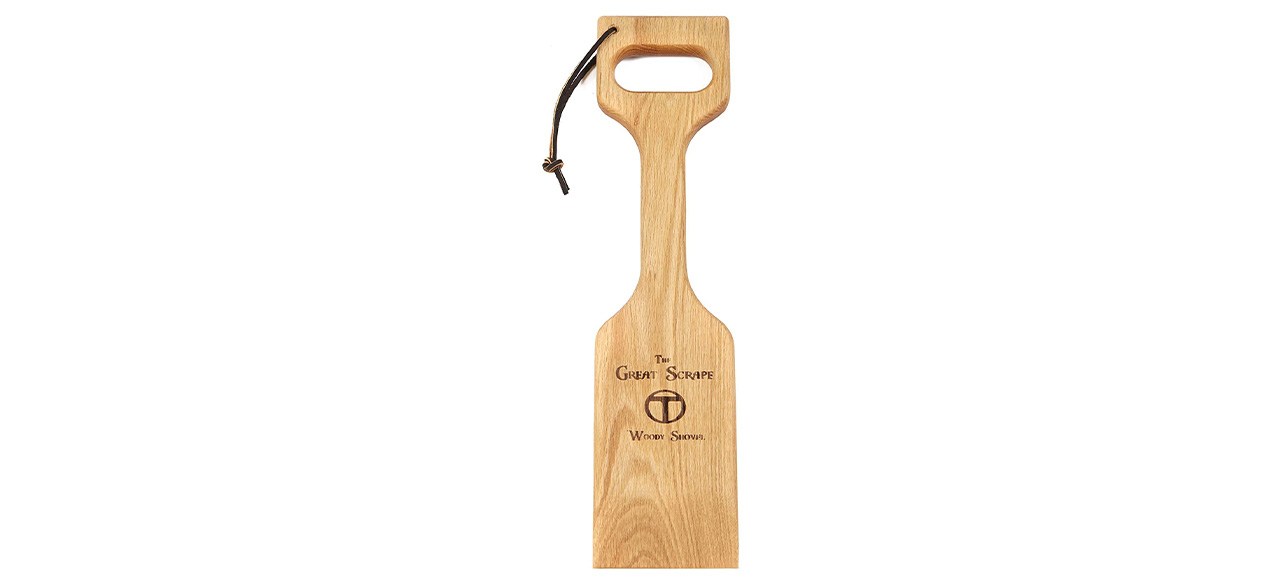 The Great Scrape 20-Inch Shovel
At first, it's just a simple piece of wood. After a few uses, though, it should hug the sides of your grates tightly, removing burnt-on food without damaging the finish. In that light, it's great for porcelain.
Sold by Amazon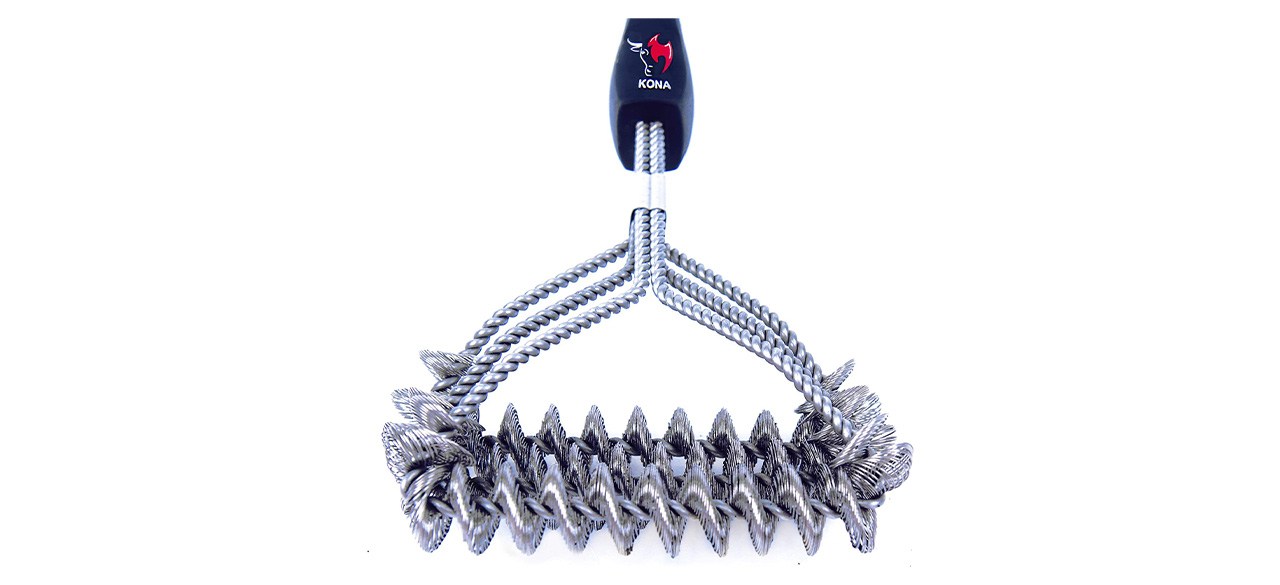 It works similarly to a common wire brush, but its bristles are much softer, requiring more effort.
Sold by Amazon
What you need to deep-clean your grill grates
If you neglect your grates even a few times over the summer, removing the built-up carbon, food particles and moisture becomes harder. In extreme cases, those caked-on substances can lead to corrosion. This issue isn't unique to cast iron, either, as there's really no such thing as truly stainless steel. Even the best stain-resistant steel can rust if you don't take care of it.
A chemical treatment might be in order if your grates are past the point where a brush or scraper can safely remove the leftover gunk. Some are food safe, but not all. The best practice is to thoroughly heat the grates before the next time you use them to get rid of any hazardous or bad-tasting residue.
Best grill cleaning chemicals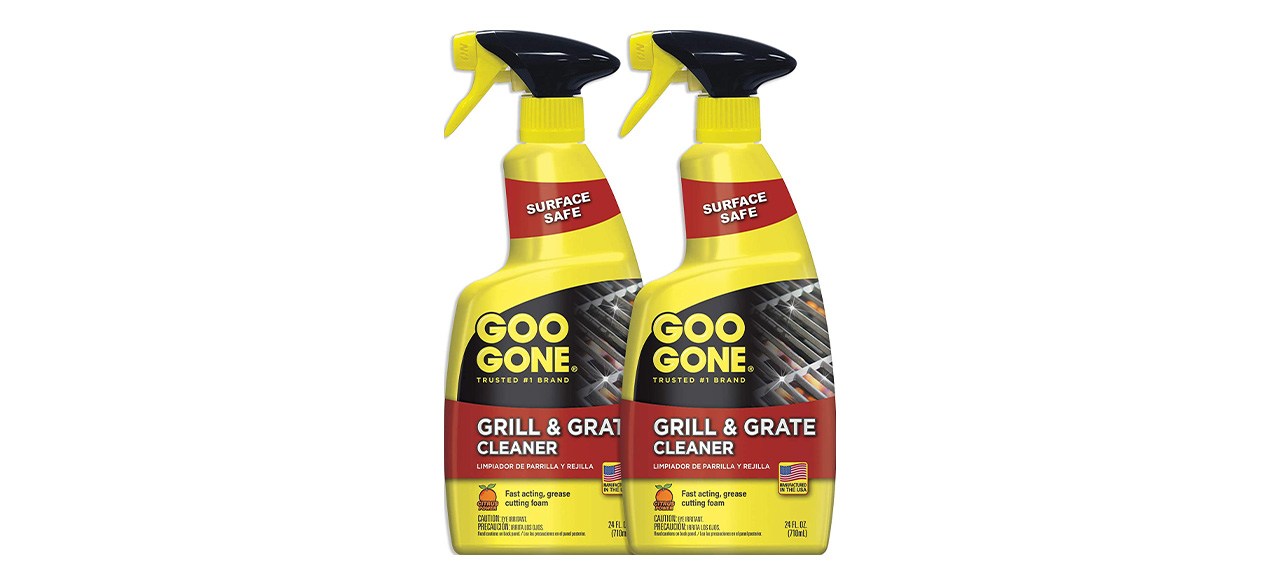 This powerful foaming spray effectively penetrates grease and carbon deposits.
Sold by Amazon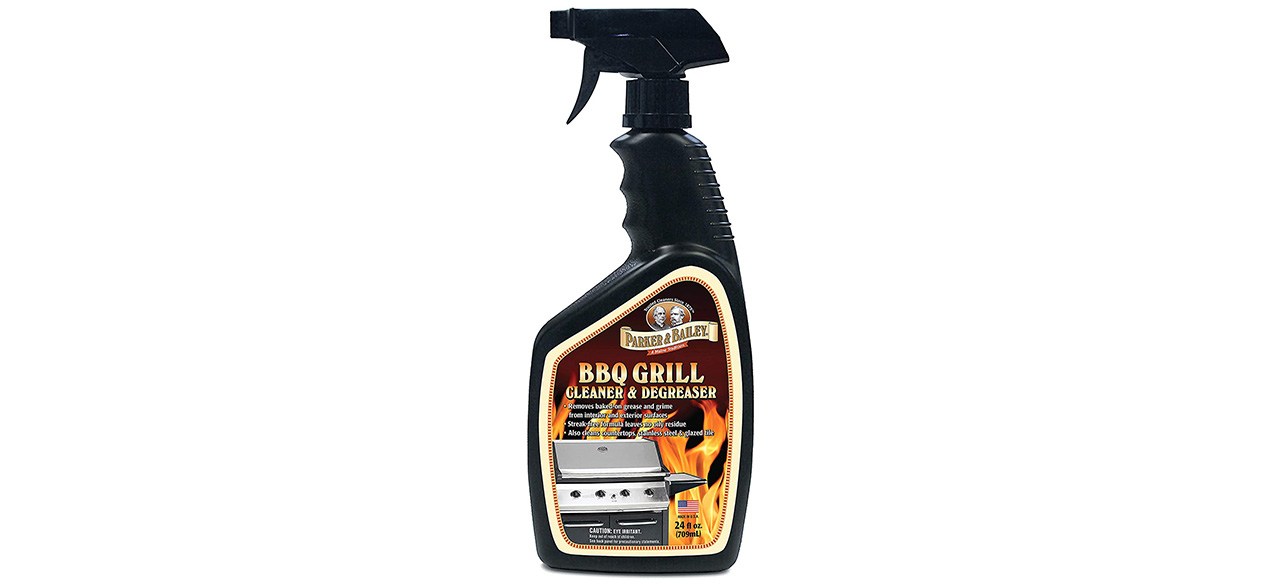 It is less harsh on the user than many other chemicals and leaves no residue when it dries.
Sold by Amazon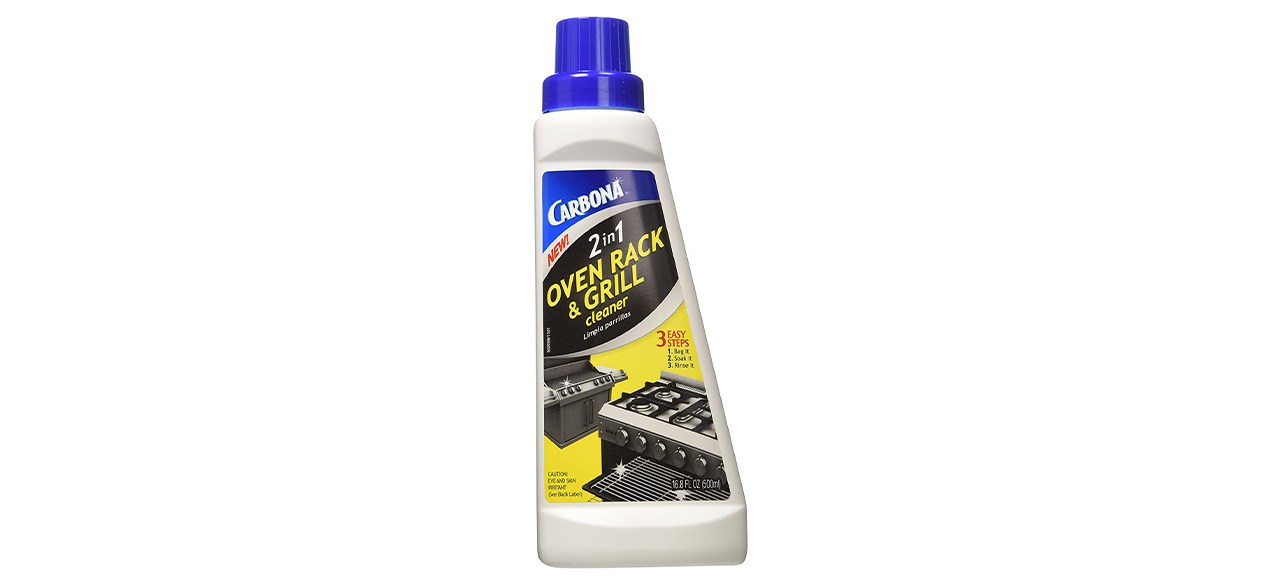 Carbona Oven Rack and Barbecue Cleaner
This high-powered chemical is the last resort, best saved for when you need to either rescue or replace a heavily encrusted grill grate. You'll need to put the grate in a large plastic bag, then add this cleaner, and you should wear personal protective equipment while doing so.
Sold by Amazon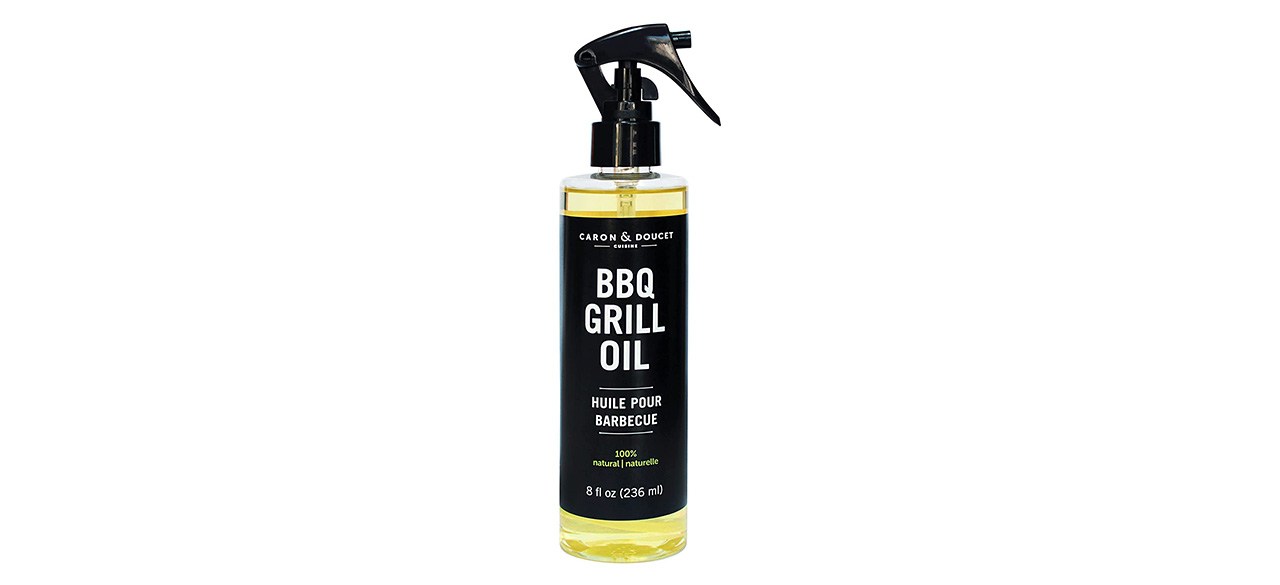 If your grates are cast iron or stainless steel, you should use this product or something like it every time you clean your grill. It is 100% safe and will greatly minimize the risk of corrosion.
Sold by Amazon
Grill grate cleaning FAQ
Q. How do I keep my grill grates from corroding?
A. As the saying goes, an ounce of prevention is worth a pound of cure. To ensure a long life span, always clean your grill as soon as possible after you finish using it. The longer you leave caked-on food, the harder it becomes to remove. If you have cast iron or steel grates, it's also a good idea to spray them down with oil as they're cooling. Just like cast iron pans, exposed metal grill grates are vulnerable to corrosion when heated and dry.
Q. What's the best way to clean electric grills?
A. If you can remove the (usually nonstick) cooking surface, do so and use soap, water and a nonmarking sponge or cloth. You can also use a soft-bristled brush. Never use metal scrapers or brushes on a nonstick surface. You also shouldn't need to use a high-powered grill cleaning chemical.
Q. Are grill cleaning chemicals dangerous?
A. Some grill cleaning chemicals are dangerous to inhale. Always have proper ventilation when using cleaning sprays of any kind. It's also worth it to use a respirator mask and eye protection, especially if there's a lot of debris flying around as you clean.
Want to shop the best products at the best prices? Check out Daily Deals from BestReviews.
Sign up here to receive the BestReviews weekly newsletter for useful advice on new products and noteworthy deals.
Chris Thomas writes for BestReviews. BestReviews has helped millions of consumers simplify their purchasing decisions, saving them time and money.
BestReviews spends thousands of hours researching, analyzing, and testing products to recommend the best picks for most consumers.
Copyright 2023 BestReviews, a Nexstar company. All rights reserved.