The right chair can turn your patio into a backyard haven
If you take the time to design and decorate your patio in a way that brings you serenity and joy, you can turn it into a highly desirable vacation spot. You can create a space for dining and lounging that lets you step away from the pressures of your daily life to experience moments of blissful peace whenever you desire. Adirondack chairs let you get away without having to leave your own backyard. Right now, you can purchase one at a reduced price, which makes these comfortable chairs even more appealing.
The iconic design of an Adirondack chair
As soon as you see one, you recognize it. An Adirondack chair has an unusual design that makes it stand out from other chairs. It has high front legs and short or (more often) non-existent rear legs that slant the seat back at a steep angle. It's made with large slats and features armrests that almost look disproportionately huge. In fact, it seems that every design element of this chair cries out, "I was made for relaxing moments."
Things to consider when choosing your Adirondack chair
When choosing your Adirondack chair, there are a few key things to consider. First, you want one that has a weight capacity that can easily support whoever uses it without fear of it breaking.
You also want to consider the material. If you go with wood, make sure it's suitable for your climate and can resist bugs, sun damage, damp weather and cracking. High-quality plastic can be tough enough to replace wood as it is weather-resistant and won't break down. More affordable plastics offer many of the same benefits but might not be as rugged.
Another consideration is storage. If you're going to be putting your Adirondack chairs away when the weather turns cold, opt for ones that can be rearranged into the most compact configuration possible, such as those that fold flat.
Other features that can make your chair even better
On its own, an Adirondack chair is a wonderfully relaxing piece of furniture. However, there are a few extras or bonus features that aren't always typical. These upgrades can make the difference between acceptable and ideal.
Cupholder: If you're going to be spending long hours in your new chair, a cupholder can help you stay hydrated.
Rocking: For many people, sitting still isn't as relaxing as a gentle, repetitive movement. Those people may prefer an Adirondack chair with rockers.
Gliding: Gliding offers a different type of soothing motion that can help you relax.
Swiveling: If you want to be able to spin your Adirondack chair around with minimal effort, a swiveling model might be a good option.
Two seats: Sometimes, moments are more special when shared with a special someone.
Reclining: An adjustable backrest makes your chair better suited for different moods and different levels of relaxation.
Footrest: A footrest or ottoman can take your relaxation up a notch, letting you recline just a bit further while taking the weight off your feet.
Cushioned: Getting a cushion for your Adirondack chair makes it much more comfortable, but taking care of cushions can increase maintenance and storage concerns.
Best deals on Adirondack chairs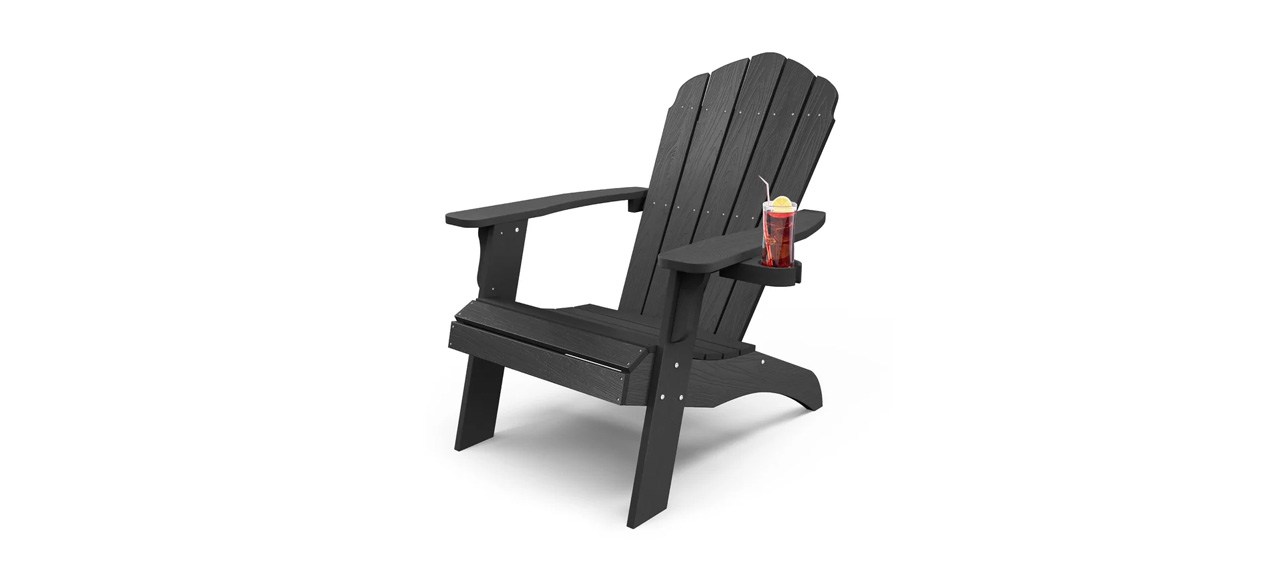 Highland Dunes Allurine Oversize Adirondack Chair
This oversized Adirondack chair makes it feel like you're sitting in the lap of luxury. The seat is wider than other chairs and the armrest has a built-in cupholder. It's made of plastic, so it's easier to maintain than wooden chairs and less appealing to animals and insects.
Sold by Wayfair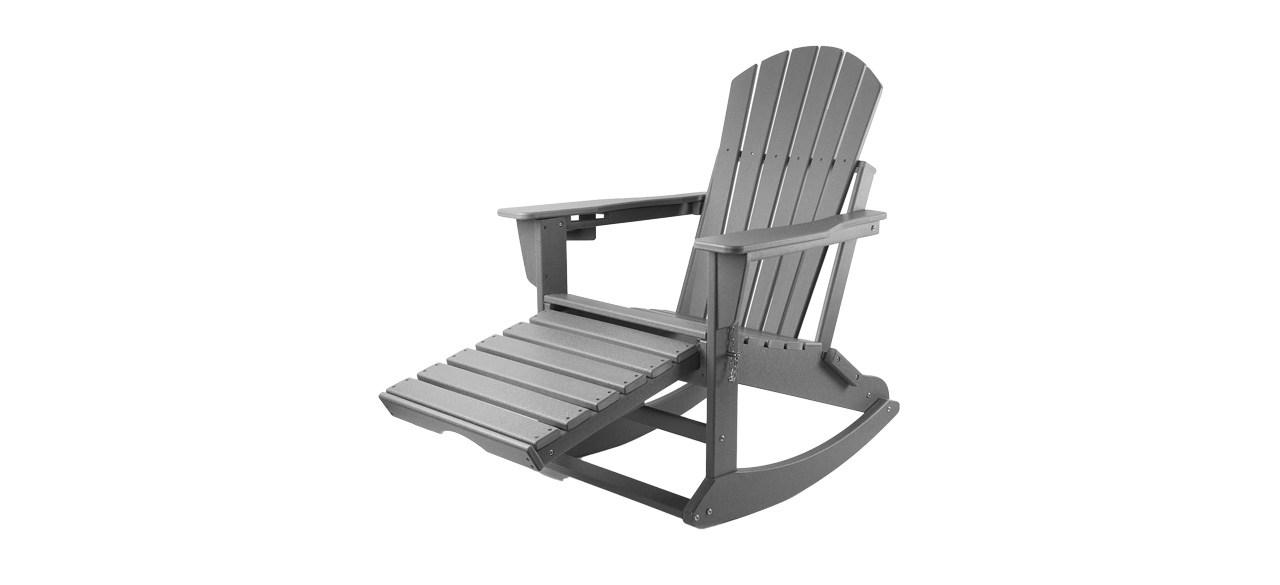 Olymsold Rocking Adirondack Chair with Ottoman
The four-in-one design of this option combines the action of a rocking chair with the comfort of an Adirondack chair. It can be used as an Adirondack chair, an Adirondack chair with an ottoman, a rocking chair or a rocking chair with an ottoman.
Sold by Wayfair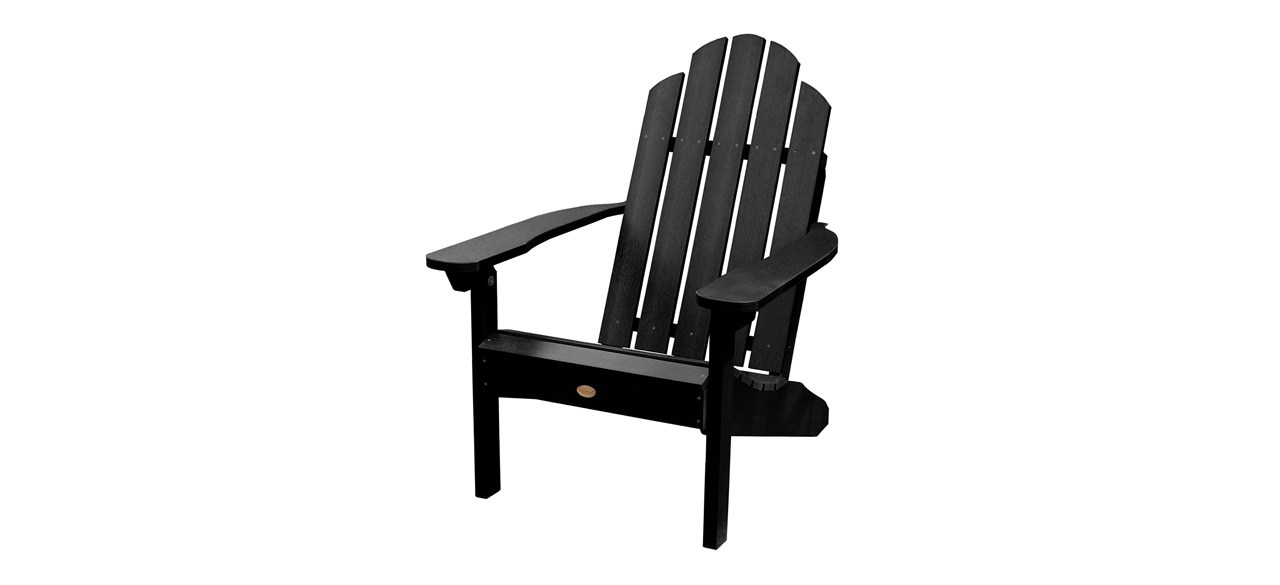 Highwood Classic Westport Adirondack Chair
This chair features a classic design that adds a touch of elegance to your backyard decor. It's made with high-grade poly material with a natural-looking texture, giving you all the benefits of wood with none of the upkeep — no sanding, staining or painting.
Sold by Amazon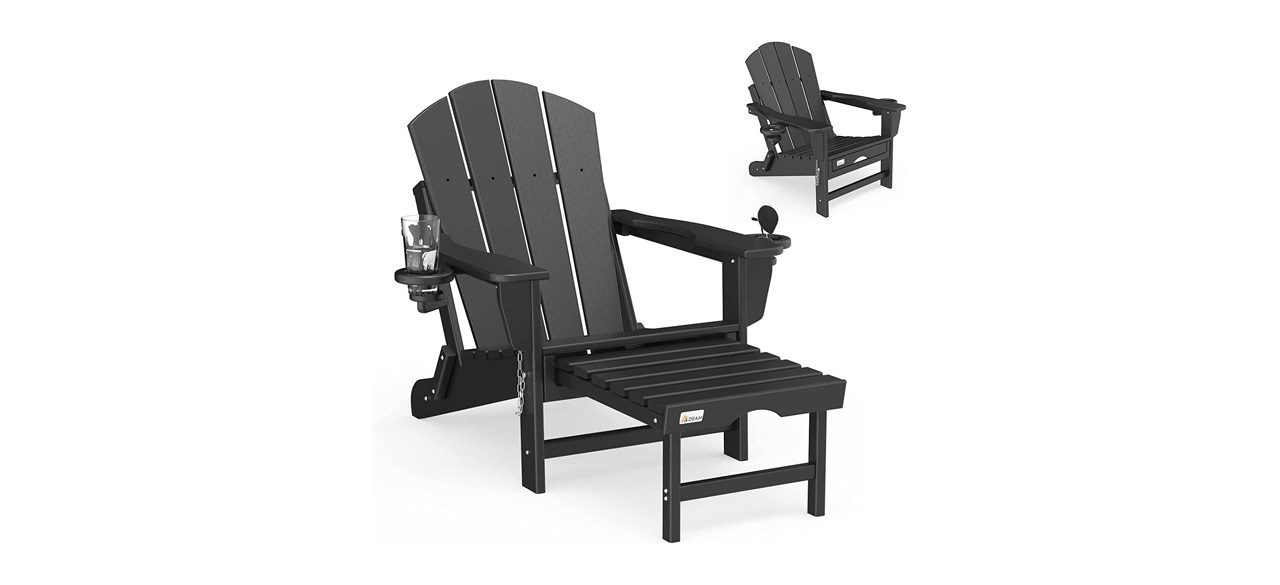 Mdeam Adirondack Chair with Retractable Ottoman
The inventive design of this Adirondack chair makes it highly versatile. It has a retractable ottoman that pulls out, allowing you to transform the chair into a lounger in a few quick seconds. The hidden cupholders are a nice touch.
Sold by Amazon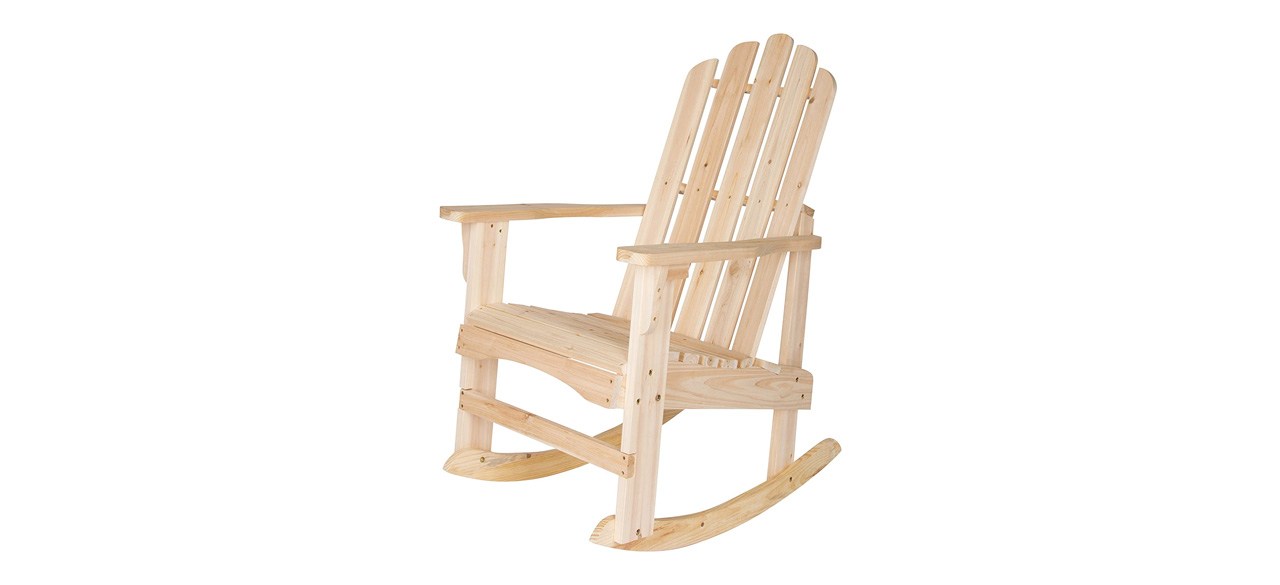 Shine Company Marina Adirondack Porch Rocker
If you want a wooden option, this cedar Adirondack porch rocker is a good choice. It's kiln-dried to help prevent splitting and warping, while the smooth-sanded natural finish lets you paint or stain the chair whatever color you desire.
Sold by Amazon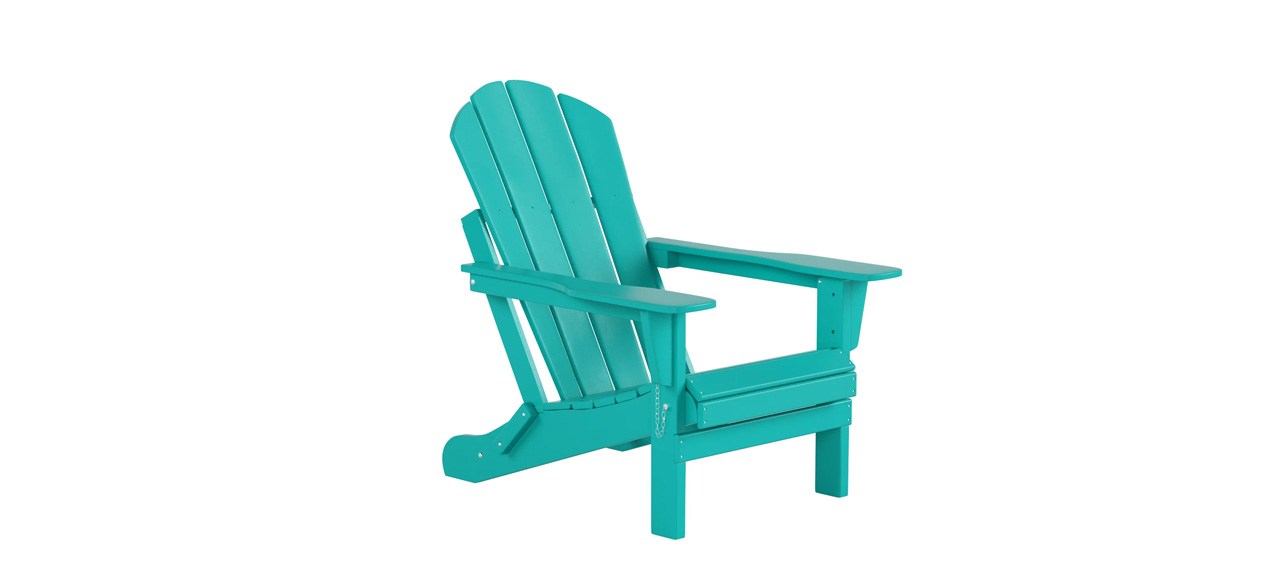 Beachcrest Home Shawnna Folding Adirondack Chair
Like most other Adirondack chairs, this one requires minimal assembly. It's affordable and made with high-density polyethylene to reduce maintenance and enhance weather resistance. The chair uses stainless steel hardware and can support up to 330 pounds.
Sold by Wayfair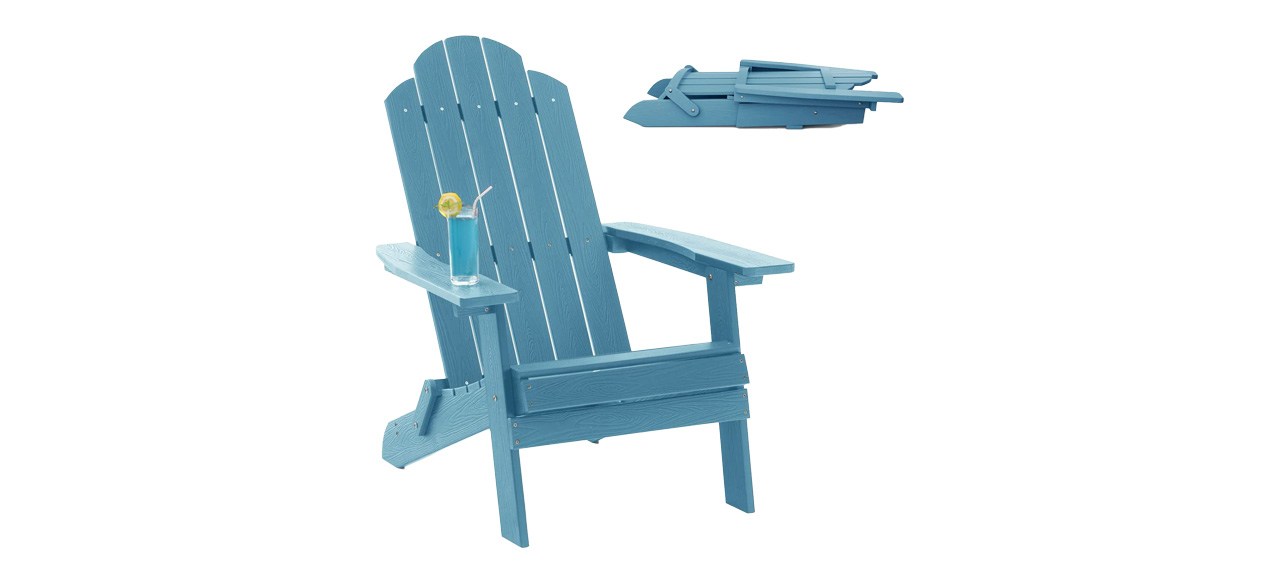 MXIMU Folding Adirondack Chair
If storage space is important, this chair folds down flat. It's made of high-impact polystyrene, which makes it completely water-resistant. It's also UV-resistant and does not easily fade, crack, warp, peel or rot.
Sold by Amazon
Other Adirondack chairs worth checking out
Want to shop the best products at the best prices? Check out Daily Deals from BestReviews.
Sign up here to receive the BestReviews weekly newsletter for useful advice on new products and noteworthy deals.
Allen Foster writes for BestReviews. BestReviews has helped millions of consumers simplify their purchasing decisions, saving them time and money.
Copyright 2023 BestReviews, a Nexstar company. All rights reserved.