This is an archived article and the information in the article may be outdated. Please look at the time stamp on the story to see when it was last updated.
Interactive puzzles stimulate dogs physically and mentally
IN THIS ARTICLE:
Interactive dog puzzle toys are a convenient solution to dogs suffering from boredom, lack of adequate stimulation and/or destructive behaviors. Beyond being helpful for pet parents who may need a break from a barking, chewing dog, puzzle toys are also helpful to the canines that play with them.
While some dog breeds are prone to boredom because they are both intelligent and high-energy — for example, Siberian huskies or border collies — dogs also find themselves resorting to destructive behavior if they're young, understimulated or restless. To easily remedy doggie boredom and other destructive behaviors, take your dog for long walks, play with them or socialize them with other pooches.
And when in doubt, give them a puzzle for some extra stimulation. The best dog puzzles include mazes, plushies with surprise toys inside and puzzles with multiple compartments.
What to look for in a dog puzzle toy
Some of the best dog puzzles include puzzles with hide-and-seek compartments (for sniffing out treats), maze-type puzzles and plush puzzles with smaller reward toys inside.
Also, consider your dog's puzzle acumen. If your pup is first starting out on their puzzle journey, start with a basic level designed for beginners. As your dog gets faster and more impressive at solving puzzles, you can move to more difficult levels such as intermediate and advanced.
Don't overstuff your pup
If you're using treats to motivate your dog to do an interactive puzzle, make sure you're choosing something small and low-calorie. No one wants to feed their pet 10 treats in under three minutes if it's going to cause them to throw up or, if done frequently, gain weight down the line.
Best dog puzzle toys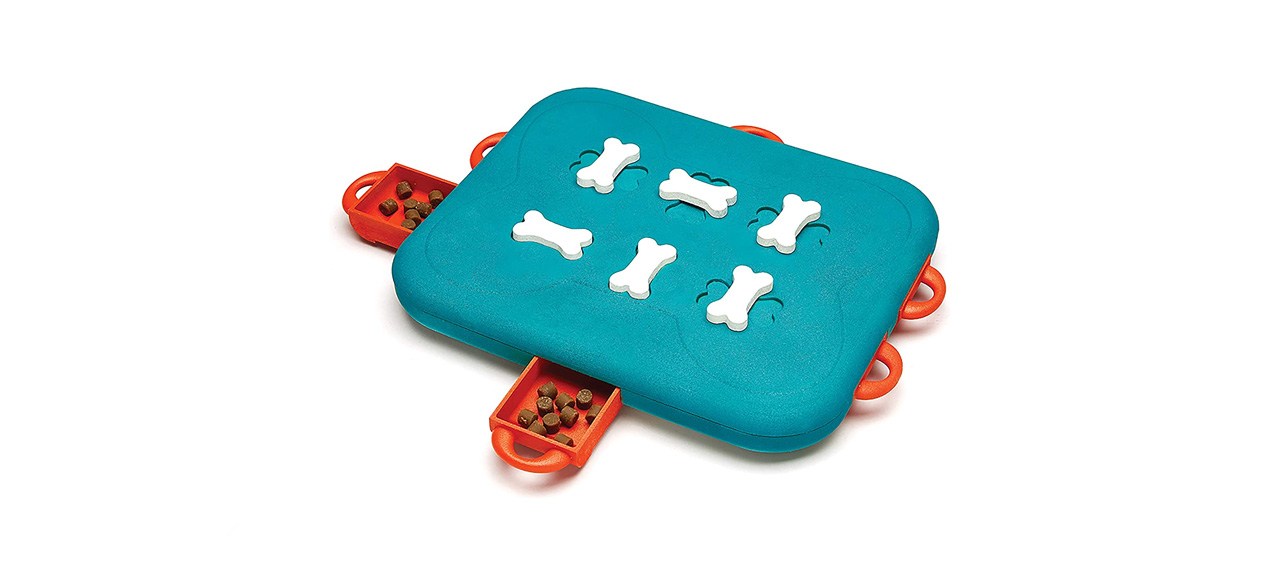 Outward Hound Nina Ottosson Dog Casino Interactive Treat Puzzle Dog Toy
For dogs that are ready to tackle advanced-level puzzles, this interactive toy features bones that must be twisted in order to unlock six hidden drawers where there are treats. This level three toy challenges your dog to learn sequential steps using a complex system such as twisting.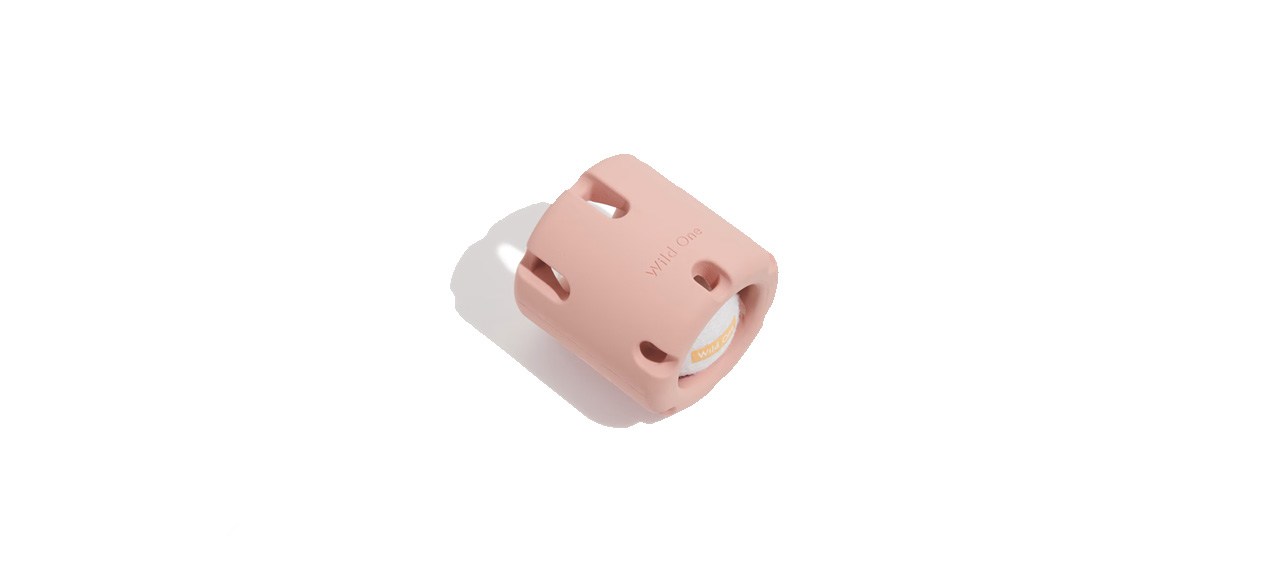 This interactive toy features a removable tennis ball inside of a natural rubber casing. It's designed for dogs that love paw-pushing and rolling around toys, making it a good beginner toy for pups new to puzzles. It also includes a four-pack of tennis balls that come in the same color as the rubber barrel.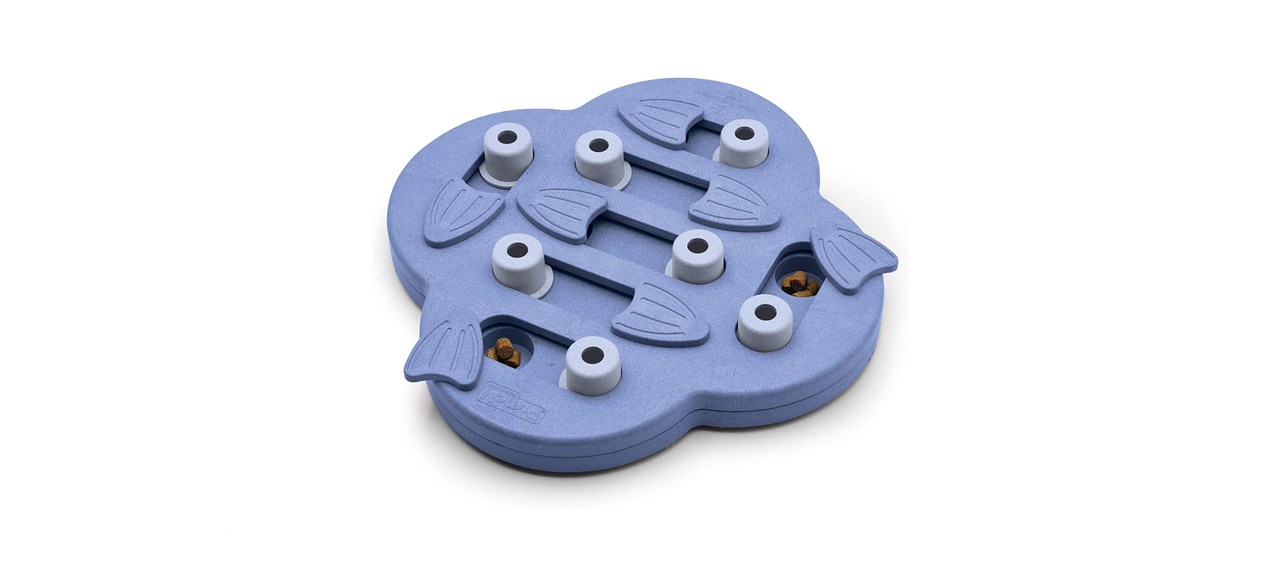 Outward Hound Nina Ottosson Dog Hide N' Slide
One of the most popular interactive dog puzzle toys, this requires your dog to figure out a tricky sliding technique in order to find their beloved treats. They'll have to use both their noses and paws to slide and swivel the seven compartments out of the way.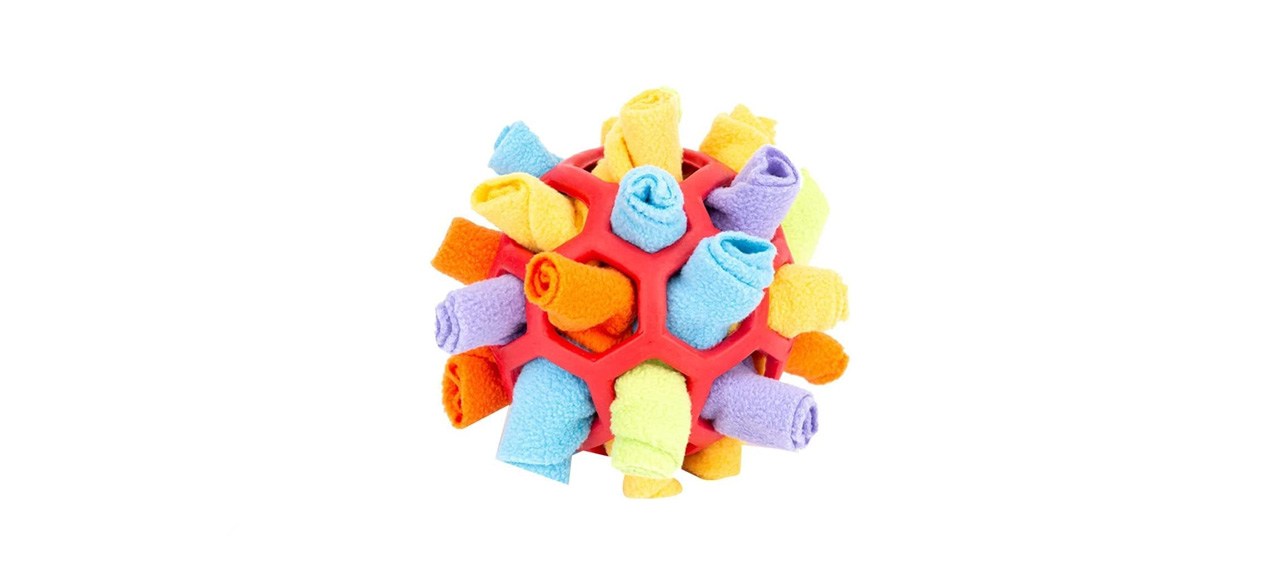 Hdliv Hide and Seek Sniffing Dog Ball
Like a snuffle mat, but in the size and shape of a ball, the Hide and Seek Sniffing Dog Ball is made of cloth, so it's soft to the touch of your dog's nose and paws. To use, roll out each piece of fabric and place a treat there. Then roll each piece of fabric back into the ball, stuffing it into its respective hole. This toy challenges pups more than traditional snuffle mats do because the rolled-up fabric makes it harder to find the food.
Sold by Amazon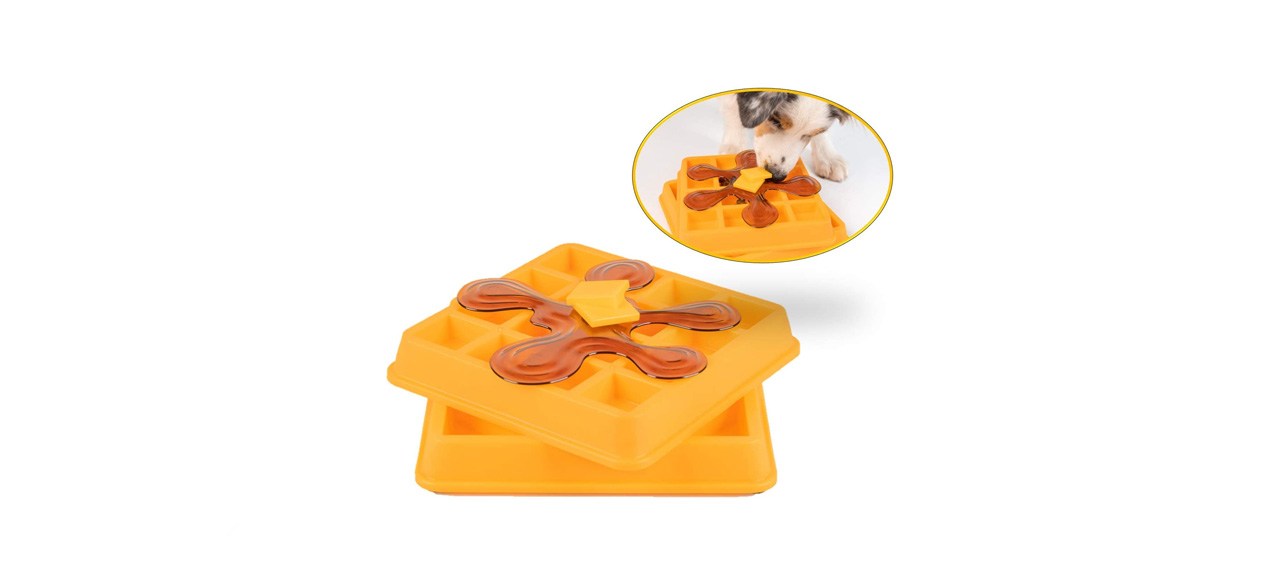 Our Pets Waffle Interactive Puzzle
This stimulating dog puzzle looks like a waffle topped with melted butter and syrup, but underneath each leg of syrup, there's a treat hiding in a waffle pocket. Dogs have to tap into their motor skills to figure out how to rotate the top of the waffle and reveal the pockets full of treats.
Sold by Amazon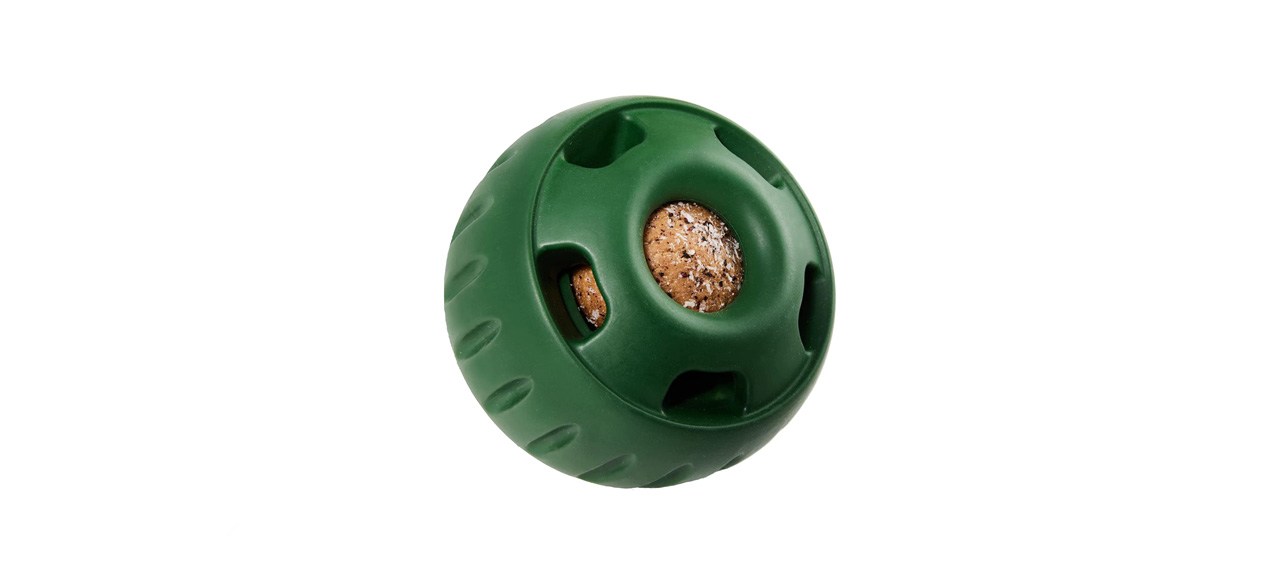 The large-sized Pupsicle is 3.6 inches in diameter and made of nontoxic natural rubber, free of bisphenol A and phthalates. It's designed for hours of stimulating play in which dogs lick the frozen broth treat inside, wearing it down until they can finally get the reward of the whole treat.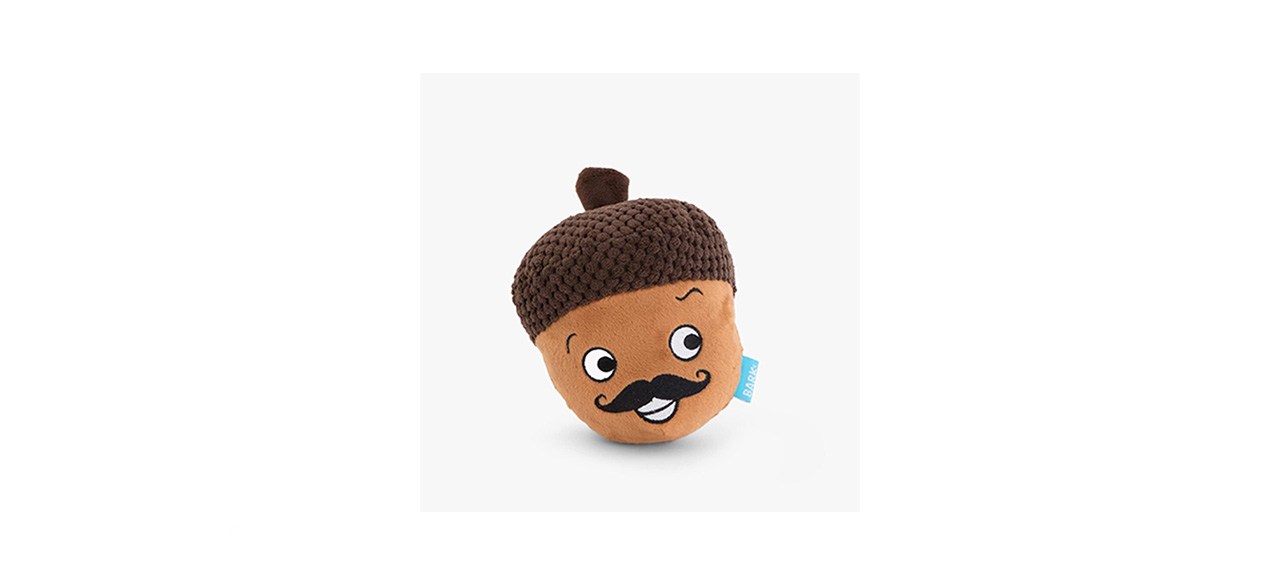 BarkBox 2-in-1 Rip and Reveal Monsieur Acorn
Rip and Reveals are durable toys that feature another, surprising toy inside. Once your pup chews through and rips apart the first Monsieur Acorn, they'll find a second one inside (although the interior acorn is not smiling since his buddy's just been ripped to shreds). This 2-for-1 toy encourages curious dogs to get to the center; when they do, the interior acorn has a squeaky ball inside rather than rippable fluff.
Sold by Amazon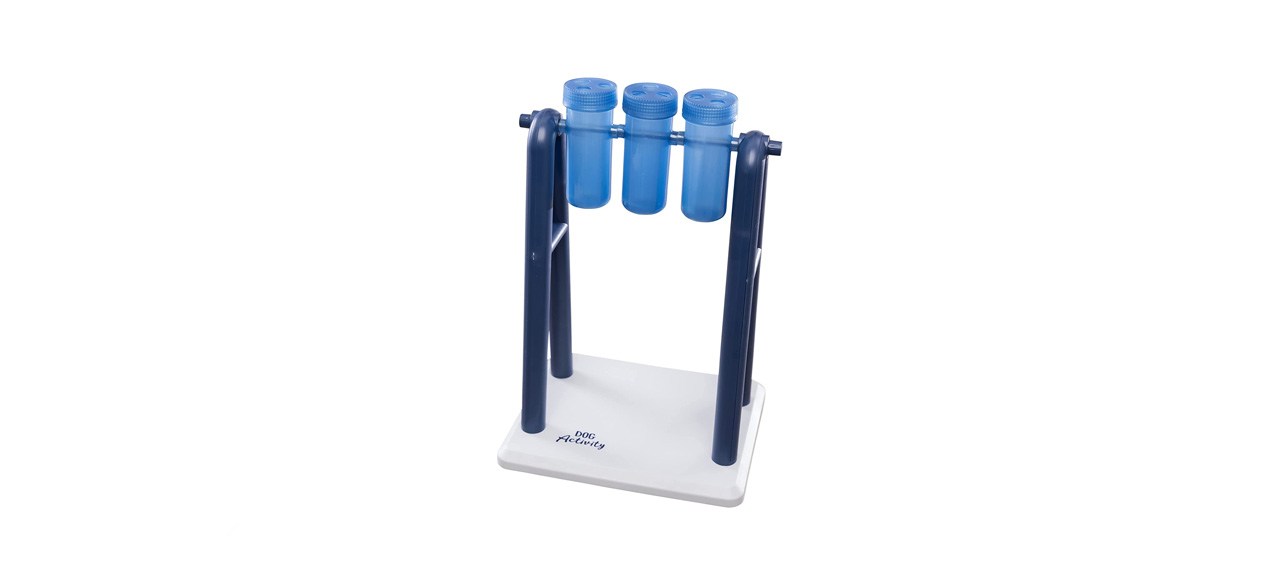 This turnaround strategy game forces pets to do some deep thinking and problem-solving. It comes with two lids that can be used interchangeably — one easier and one more difficult to solve. Dogs have to rotate and then balance each tube to release any treats. It takes a lot of skill and a lot of paw work, too.
Worth checking out
Want to shop the best products at the best prices? Check out Daily Deals from BestReviews.
Sign up here to receive the BestReviews weekly newsletter for useful advice on new products and noteworthy deals.
Stephanie Osmanski writes for BestReviews. BestReviews has helped millions of consumers simplify their purchasing decisions, saving them time and money.
Copyright 2023 BestReviews, a Nexstar company. All rights reserved.